One of the most common questions I often get from many of our readers and fellow gardeners is: "Is it really worth investing in a robotic lawn mower?" The idea of investing in a new high-tech device, especially one that may not be that commonly used yet, can be a cause for doubt among many people. However, the truth is that robotic lawn mowers have proven their cost-effectiveness over and over again. This article is aimed at providing you with the actual numbers, so that you can make an informed decision when considering how much to spend on your new robotic lawn mower, or whether to buy one at all.
Robotic lawn mowers are an effective way of saving both money and time. Better cost efficiency in addition to very significant savings on time invested in mowing lawns repeatedly over several years can be proven by means of calculations and cost comparisons.
In this article I provide an in-depth analysis and description of all the factors you need to consider when assessing whether investing in a robotic lawn mower is worth the money for you. I also provide extensive comparisons with various traditional types of mowers and have included a table and graph to illustrate the costs as well as the times required for return on investment when compared to traditional lawn mowers. Read on to find out more!
Is It Actually Worth Buying a Robotic Lawn Mower?
There are many factors to consider when trying to determine the costs of a traditional gas-powered or electric lawn mower when compared to those of a robotic lawn mower.
Basically, the following factors should be considered when determining the overall cost of a robotic lawn mower:
size of the mowing area
complexity of the mowing area
features of the robotic lawn mower
quality of the robotic lawn mower
The most important factor that comes into play when calculating the cost of a robotic lawn mower is the size of the mowing area. This is because the size of the mowing area will ultimately dictate your requirements in terms of the size of the mower and battery as well as the power output of the mower's motor.
In this regard, it is also important to bear in mind that robotic lawn mower manufacturers calculate the area sizes suitable for their various models based on theoretical daily mowing of the same area. If, for example, you only plan to have your robotic lawn mower mow every second day, you would often ideally require a larger mower than those which are recommended by manufacturers.
Another factor to take into consideration is the features that your mower will require. Features such as GPS, corner mowing functionality, rain sensors and Geofencing are just some of the options out there. GPS is generally the most expensive (optional) feature since this usually entails very high-tech functionalities, such as optimised route finding and planning software.
Other factors to bear in mind are the quality and brand of the mower you choose to purchase. Here at Robolever we try to provide as wide a variety as possible when it comes to the many great options out there, but it is always important to consider the above requirements before making a decision first.
The following sections will examine the costs of robotic lawn mowers as an investment and will incorporate these as well as other factors when determining the financial viability of owning one.
What to Consider When It Comes to Calculating Your Mowing Expenses
Below is an exhaustive table we have created based on the average costs of all the factors you need to consider for different acreages over a period of one year. The cost comparison also incorporates the different costs and area sizes that would be applicable for small, medium-sized and large robotic lawn mowers respectively.
| | | | | | | |
| --- | --- | --- | --- | --- | --- | --- |
| | Electric lawn mower 1/8 acre | Gasoline lawn mower 1/2 acre | Ride-on mower 1 acre | Small mowing robot 1/8 acre | Medium-sized mowing robot 1/2 acre | Large mowing robot 1 acre |
| Size (Acre) | 0.125 | 0.5 | 1 | 0.125 | 0.5 | 1 |
| Size (SQM) | 500 | 2000 | 4000 | 500 | 2000 | 4000 |
| Average buying cost | $150.00 | $400.00 | $1,200.00 | $800.00 | $1,500.00 | $2,500.00 |
| Initial installation | $0.00 | $0.00 | $0.00 | $250.00 | $450.00 | $750.00 |
| Electricity | $2.53 | n/a | n/a | $5.67 | $13.72 | $19.92 |
| Gas | n/a | $22.88 | $35.20 | n/a | n/a | n/a |
| Fertilizer | $125.00 | $500.00 | $1,000.00 | $75.00 | $300.00 | $600.00 |
| Battery replacement | n/a | n/a | n/a | $45.00 | $45.00 | $45.00 |
| Repair and maintenance | $80.00 | $120.00 | $180.00 | $60.00 | $80.00 | $100.00 |
| Working hours | $1,020.00 | $1,920.00 | $3,000.00 | $180.00 | $180.00 | $180.00 |
| Total costs first year | $1,377.53 | $1,042.88 | $2,415.20 | $1,415.67 | $2,388.72 | $4,014.92 |
| Total costs every other year | $1,227.53 | $642.88 | $1,215.20 | $365.67 | $438.72 | $764.92 |
Here at Robolever, we are big on specifics. If you would like an even more exhaustive case analysis, please feel free to refer to this table.

Other Factors to Consider

The Subjective Value of Your Time
First of all, let us bear in mind that time is the one resource we can never increase or get back. Although some people enjoy the process of mowing their lawns manually over and over again (some even find it therapeutic!) let's face it, mowing lawns is generally not considered the most exciting part of gardening — nor is it the most relaxing way to spend your free time, especially due to its repetitive nature and the fact that by the time your lawn gets out of hand, it's even less fun to just get it back under control, not to mention keeping it at an optimal length and in an optimal condition.
It is therefore important to save time for yourself wherever possible, and a robotic lawn mower is definitely one of the best ways to ensure that you are not spending it on something that can be almost fully automated with a robotic lawn mower.
The Objective Value of Your Time
Of course, having more time on your hands also means that you will be able to use it for all kinds of other things, such as being more productive in other aspects of your life, spending it with friends (potentially barbecuing while your trusty robot mower tirelessly does its chores in the background), focusing on other aspects of your garden care, such as pruning, or just relaxing.
Indeed, for many people that have never had the luxury of owning a robotic lawn mower before, there is often an initial sense of not knowing what to do with all the extra time they have on their hands once their robotic lawn mower has been set up to take care of all their mowing needs.
Nevertheless, whether you decide to use the extra hours you have on your hands to do other work, or just use it to take a well-deserved rest, a robotic lawn mower can definitely save you a great deal of time. In fact, certain brands, such as Husqvarna and Worx, even provide setup services with your purchase, or as part of a premium opt-in package, so you can start saving time and money from day one!
Traditional Vs Robotic Lawn Mowers — the Cost
Now let's get down to what most people think about when they consider the viability of investing in a new device — dollars and cents!
Time Required for Return on Investment
The calculations in this article have been made around the average use of robotic lawn mowers of different sizes (small, medium-sized and large respectively) over time as well as acreage mowed and other factors (see graph below). Since this is the average number of times that lawns require mowing during different seasons, it should be quite easy to see how cost-effective robotic lawn mowers can be, especially once a return on your initial investment has been made.
If you have been considering investing in a shiny new robotic lawn mower for your yard or garden, the good news is that you will definitely save money over time, and as you will see, you will most likely make ROI in around 2 to 3 years, depending on certain factors, including your initial investment cost, i.e. which mower and accessories you decide to buy.
Maintenance — a Cost Comparison
Robotic lawn mowers are still lawn mowers, and just like any other type of hardware, they do require maintenance. However, here again you will find that robotic lawn mowers turn out to actually be cheaper overall in terms of how much you will spend on hardware maintenance and even electricity.
The graph below shows the respective costs of the following types of lawn mowers over a period of about 4 and half years:
electric lawn mowers 1/8 acre
gas-powered lawn mowers 1/2 acre
ride-on lawn mowers 1 acre
small robotic lawn mowers 1/8 acre
medium-sized robotic lawn mowers 1/2 acre
large robotic lawn mowers 1 acre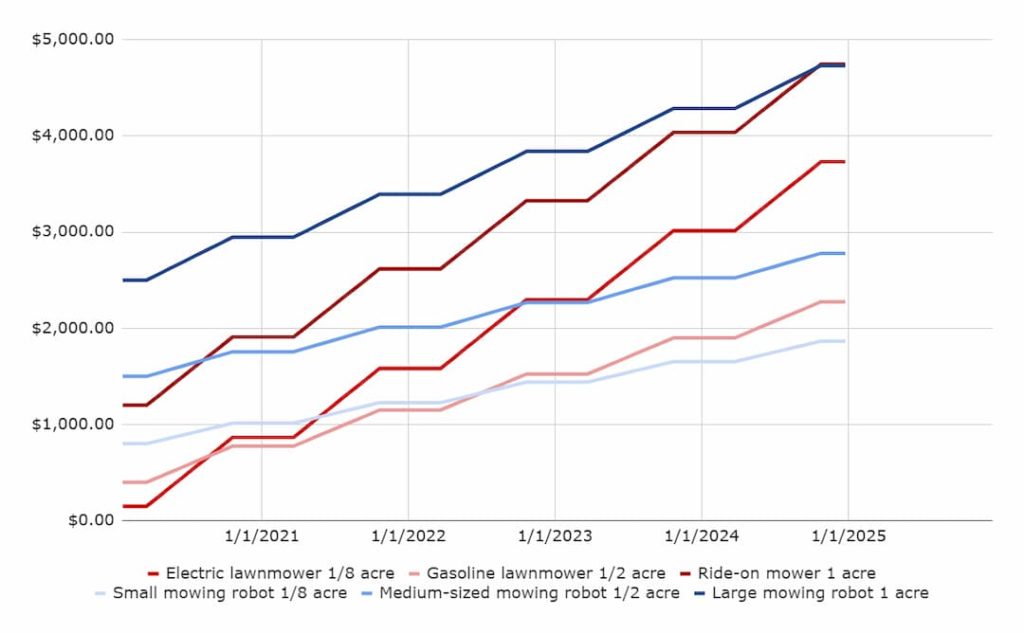 Detailed Cost Analysis – Robotic Lawn Mowers Vs. Regular Mowers
The following is a detailed analysis of the 6 examples in the graph.
Traditional Electric Mowers Vs Robotic Lawn Mowers
Traditional electric lawn mowers are one of the most commonly used types of lawn mowers out there and are preferred by many since they do not produce any emissions — an advantage that robotic lawn mowers have too.
However, traditional electric lawn mowers eventually end up costing more when compared to both small and even medium-sized robotic lawn mowers, such as the Worx WR140, over a period of just over 4 years, as can be seen from the graph above.
Gas-powered Traditional Mowers Vs Robotic Lawn Mowers
Gas-powered lawn mowers are generally considered a good investment as far as traditional lawn mowers are concerned since they ultimately cost less than traditional electric lawn mowers over time (assuming they last that long).
However, based on our analysis in the graph above, small robotic lawn mowers, such as the Redback MowRo RM18, ultimately cost less than even gas-powered traditional lawn mowers over a period of about 4 and a half years.

Ride-on Vs Robotic Lawn Mowers
Ride-on lawn mowers are the most expensive type of traditional lawn mowers, both in terms of initial purchasing price as well as in terms of maintenance, but are generally used to mow larger areas.
A good comparison can thus be made between ride-on lawn mowers and large robotic lawn mowers (the most expensive type of robotic lawn mowers), such as the Husqvarna 450X.
From our graph above, it can be seen that over a period of just over 4 years, the cost of a large robotic lawn mower ends up being the same as the average price of an ride-on lawn mower!
So What Is the Best Choice for You? — Our Verdict
For most people, especially considering the information you now have, the answer is simple: Robotic lawn mowers are a cost-effective as well as time-saving investment and are the most effective means to delegate your lawn mowing needs.
In terms of cost, small robotic lawn mowers, such as the Redback Mowrow RM24 or the Husqvarna Automower 305, therefore beat all types of traditional lawn mowers over a period of approximately 4 and half years.
Medium-sized robotic lawn mowers, such as the Husqvarna Automower 115H or the WORX Landroid L 20V, beat both traditional electric as well as gas-powered lawn mowers over the same period of time.
Large robotic lawn mowers, such as the Husqvarna Automower 450X, cost less than even ride-on lawn mowers over the same period of time!
Small Robotic Lawn Mowers
There are many options when it comes to small robotic lawn mowers. And since these are generally intended for small gardens up to approximately 650 feet, such as those in urban areas, they generally do not require many fancy features, meaning that they also tend to be significantly cheaper.
Small robotic lawn mowers for this type of application are generally priced between 500 USD – 1000 USD, again depending on brand and features, etc.
Medium-Sized Robotic Lawn Mowers
Medium-sized robotic lawn mowers, on the other hand, should always be chosen if the size of the area to be mowed is any larger than 650 square feet, since your robotic mower would otherwise have to work non-stop to mow just half of an area that size, meaning that wear and tear, and thus maintenance costs, would ultimately increase too.
Anything between 650 square feet – 10,800 square feet should be considered medium-sized. This size range generally applies to gardens in suburban areas or residential areas and pathfinding features would thus be useful on robotic lawn mowers deployed in yards in this size category.
Medium-sized robotic lawn mowers can generally be found with prices ranging from 850 USD – 1200 USD.
Large Robotic Lawn Mowers
For lawns that are between 10,800 – 53,800 square feet in size, large robotic lawn mowers, such as the Husqvarna 450X, should ideally be used.
With areas of this size, features such as GPS pathfinding and area rotation functionality would obviously be very useful, meaning that mowers in this category tend to cost more than their smaller counterparts. Indeed, the beasts in this category generally come with more fancy features, such as rain sensors and the ability to program multiple exit points from which they can then be deployed to mow different areas on a rotation.
Even large robotic lawn mowers can sometimes be found for as little as 850 USD but generally range around the 1700 USD price point. For large robotic lawn mowers fully equipped with GPS tracking and pathfinding, be prepared to pay up to around 3000 USD though.
Very Large Robotic Lawn Mowers
Yes, they come in XL size too! Areas of between 53,800 – 323,000 square feet are generally not considered "gardens" (OK, unless you're Warren Buffet maybe) and most manufacturers do not cater to owners of lawns this size. But if you do happen to own a huge estate, Husqvarna does offer devices for around 4850 USD.
Huge Robotic Lawn Mowers
Yep, you guessed, it — they make them even bigger. For areas of between 107,650 – 323,000 square feet, AMBROGIO actually manufactures robotic lawn mowers. In this range we are obviously talking about sports grounds, such as football fields, and this is indeed what they are designed for.
However, unless you are the owner of a sports stadium, you will probably not be interested in the prices that these mammoths go for. Suffice it to say that they are all in the 5-figure range and some cost more than brand new mid-range cars!
Optional Features
For special cases, particularly complex garden layouts, it may be very useful — and arguably necessary — to opt in to some extra features to optimize your robotic lawn mower's efficiency.
The most common feature, when it comes to complex garden or yard layouts, is GPS. GPS is necessary for many of the high-tech features, such as the pathfinding and multi-zone functions that the Worx Landroid series is capable of, to work.
The reason why such features can be necessary is that, by default, most robotic lawn mowers simply "bump into" and steer away from the natural or manually configured borders that have been set up for them and continue to mow "blindly" to provide an even cut. In the case of complex garden layouts, however, such as those that include ponds, interspersed trees, gravel areas, rock formations and especially narrow pathways, it would obviously make sense for your robotic mower to be able to plan its path by means of the GPS functionality that lends itself to these features.
Just imagine how unlikely it is that your robotic mower (without GPS pathfinding) finds its way through a narrow pathway without bumping into the edges (or falling off it), mows your lawn on the other side, and then returns all the way back through the narrow pathway to dock back into its docking station — all without a single collision! It is for this reason that some robotic mowers make use of special (sometimes optional) onboard systems that make it possible for them to navigate complex areas more effectively.
Certain mowers, such as those in the Husqvarna Automower series, all that come with passage-functionality features, which enable them to traverse pathways by means of a guidewire, but such features are often vendor-specific.
Conclusion
Either way, robotic lawn mowers win in all categories. And if you also factor in the massive time savings over long periods of time, robotic mowers are simply in a class of their own.
Ultimately, regardless of whether you own a small garden or a huge yard, there is simply no comparison when it comes to the money and time that robotic lawn mowers allow you to save.
Now, if you are ready to start looking at some of the options out there on the market for 2021, feel free to read our other article on some of my best Robotic Lawn Mower Picks for 2021.
03/04/2021
Recent Content
link to Best Robotic Lawn Mowers in 2021
Are you looking to buy a robotic lawn mower? I think there has never been a better time, since the most recent models on the market are actually quite sophisticated so that it can now be appealing...
link to Do Robotic Lawnmowers Get Stolen?
High-end robotic lawnmowers can be a significant investment, so I was curious about how often they get stolen and did some research on the topic. Although there is no specific data available on...